Transaction Successful! You just made a difference in another's life!
The Ralph Bunche Alumni Association is eternally grateful to you. Your financial contribution will help grow the college scholarship fund and support the mission to restore and preserve the legacy of Ralph Bunche High School. Thank you and we welcome your continued support.
Sincerely,
Claudette T. Jordon, President
WATCH THE FULL LENGTH VIDEO
The Road to School Desegregation in King George County, Virginia
In appreciation of your donation, we'd like to share the full-length video, The Road to School Desegregation. This documentary film was produced by the Ralph Bunche Alumni Association and the King George County School Board to share this remarkable history.
Copyright Information
You may bookmark this page to watch later, if you'd like. As a courtesy, we ask that you please respect that the content on this page is reserved exclusively for RBAA financial donors-supporters like you and not to be freely shared.
We hope you enjoy what you see here and throughout this website.
About The Video
For years, the Ralph Bunche Alumni Association searched and needed to find the medium to tell the story and showcase the historic role Ralph Bunche High School played in challenging the "Separate but Equal" justification in public school systems and how this ultimately led to the desegregation of schools in Virginia.
Professor Cristina Turdean, PhD and her class of Museum Design and Interpretation from The University of Mary Washington's Fredericksburg campus took on the challenge to do so.
The culmination of this effort produced a full-scale public exhibit on April 21, 2015 entitled the "Road to School Desegregation in King George County, Virginia", which showcased eight 32 in. by 89 in. panels on which the Ralph Bunche High School story is told. The panels are made from durable fade resistant vinyl, easy to assemble and retract which also makes them ideal as a traveling exhibit.

This extensive exhibit was so impressive that the Superintendent of King George Schools Dr. Benson commissioned the Alumni Association to have the script and panels made into a video in order to introduce the history of the "Road to School Desegregation in King George County" into the schools' curricula.
This video, narrated by Pamela E. Bridgewater (Ret.) Former U.S. Ambassador to Benin, Ghana, Jamaica and U.S. Consul General to Durban, South Africa, premiered on September 26, 2016 at the University of Mary Washington-Dahlgren Campus with videography provided by David and Catherine Jennings of the Bonaventure Video & Creative Group
This Road to School Desegregation video, which is now in all King George school libraries, enables teachers to bring local relevance to the history of Ralph Bunche High School, the county of King George and the nation's history during the Civil Rights movement.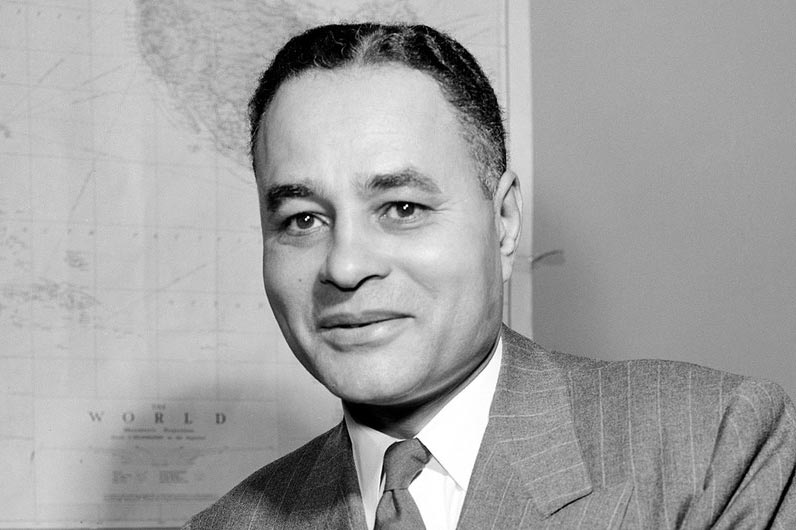 Become a Member
If you're not yet a member, consider joining an Association that is committed to developing a landmark historic site in King George County, preserving the educational legacy of the civil rights movement in the United States and providing valuable assistance and resources to others. Your membership gives you access to organization news, a variety of communications, events and a member-only portal. Join us today!
Have a question?
Reach out to us if you need additional information. We'll be happy to help.